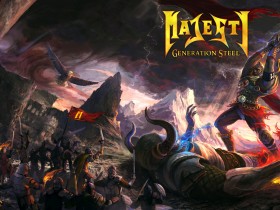 New MAJESTY album and headliner tour - the"Generation Steel" marches into the battle!*
The German Power Metal band MAJESTY have just finished the recordings of their new studio album "Generation Steel".
Singer Tarek commented as followed: "I think that with "Generation Steel" we created an album which will lift the band up to a new level. You can look forward to ten Heavy Metal anthems which will express the feelings all Heavy Metal fans have in their hearts . We are more than proud of the new record and can´t wait to also present these songs live on stage
during our "Generation Steel" headliner tour."
The album will be exclusively released as a limited digipack on NoiseArt Records. As a bonus CD MAJESTY will present six of their hits as completely rearranged acoustic versions under the banner of "Acoustification".
Furthermore the album will also be available as a download and vinyl version. As usually there will be various vinyl colors so that all the collectors should be happy for sure.
To celebrate the release the band will also go on a huge European headliner tour starting on March the 20th.
Here are all confirmed dates:
GENERATION STEEL TOUR 2015
with Special Guests BLOODBOUND and EVIL INVADERS
20.03.2015 FR GER Siegen Vortex
21.03.2015 SA GER Aalen Rock it
22.03.2015 SU ITA Brescia Circolo Cologny
23.03.2015 MO tba
24.03.2015 TUE AT Wien Szene
25.03.2015 WE CH Pratteln Mini Z7
26.03.2015 TH GER Nuremberg Rockfabrik
27.03.2015 FR GER Berlin K17
28.03.2015 SA GER Leipzig Hellraiser
29.03.2015 SU GER Cologne MTC
30.03.2015 MO GER Hamburg Markthalle
31.03.2015 TUE NL tbc
01.04.2015 WE UK London Underworld
02.04.2015 TH NL Denn Haag Paard
03.04.2015 FR DE Bremen Tivoli
04.04.2015 SA GER Essen Turock
05.04.2015 SU BEL Vosselaar Biebob
_______________________________________
Furthermore confirmed MAJESTY shows
07.02.2015 Heavy Metal´s Calling 2015 Festival
Munich (GER)
21.02.2015 ACOUSTIFICATION - Akustik Show
Lauda-Koenigshofen (GER)
06.06.2015Metalfest CZ
Pilzen (CZ)
12.06.2015Break The Ground
Ahnsbeck (GER)
13.06.2015 Brann Open Air
Leipzig-HalleFlughafen (GER)
09.-11. 07.2015 Rock Harz Open Air
Ballenstedt (GER)
28./29.09.2015Neuborn Open Air
Wörnstadt (GER)
########################################################
Neues MAJESTY Album und Headliner-Tour - die "Generation Steel" zieht in die Schlacht!
Die deutschen Power Metaller von MAJESTY haben dieser Tage die Aufnahmen zu ihrem neuen Studioalbum "Generation Steel" beendet.
Sänger Tarek kommentierte wie folgt: "Ich denke, dass wir mit "Generation Steel" ein Album geschaffen haben, welches MAJESTY auf eine neue Ebene heben wird. Ihr könnt euch auf zehn glorreiche Hymnen freuen, die jedem Heavy Metal-Fan direkt aus dem Herzen sprechen werden. Wir sind mehr als stolz auf die neue Scheibe und können es kaum erwarten, die Songs auch live im Rahmen unserer "Generation Steel"- Headliner Tour zu präsentieren.
Das Album wird am 20.03.2015 exklusiv als limitiertes Digipack über NoiseArt Records veröffentlicht. Als Bonus CD präsentieren MAJESTY unter dem Banner "Acoustification" sechs ihrer Hits als komplett neu arrangierte Akustikversionen. Außerdem wird das Album als Download und als Vinyl erhältlich sein. Wie gewohnt wird es mehrere Vinylfarben geben, so dass Sammler voll auf ihre Kosten kommen.
Um den Release gebührend zu feiern, wird die Band auch ab dem 20.03. auf große Europa Headliner Tour gehen. Hier alle bestätigten Dates.
GENERATION STEEL TOUR 2015
with Special Guests BLOODBOUND and EVIL INVADERS
20.03.2015 FR GER Siegen Vortex
21.03.2015 SA GER Aalen Rock it
22.03.2015 SU ITA Brescia Circolo Cologny
23.03.2015 MO tba
24.03.2015 TUE AT Wien Szene
25.03.2015 WE CH Pratteln Mini Z7
26.03.2015 TH GER Nürnberg Rockfabrik
27.03.2015 FR GER Berlin K17
28.03.2015 SA GER Leipzig Hellraiser
29.03.2015 SU GER Köln MTC
30.03.2015 MO GER Hamburg Markthalle
31.03.2015 TUE NL tbc
01.04.2015 WE UK London Underworld
02.04.2015 TH NL Denn Haag Paard
03.04.2015 FR DE Bremen Tivoli
04.04.2015 SA GER Essen Turock
05.04.2015 SU BEL Vosselaar Biebob
_______________________________________
Weitere bestätigte MAJESTY Shows
07.02.2015 Heavy Metal´s Calling 2015 Festival
München (GER)
21.02.2015 ACOUSTIFICATION - Akustik Show
Lauda-Koenigshofen (GER)
06.06.2015Metalfest CZ
Pilzen (CZ)
12.06.2015Break The Ground
Ahnsbeck (GER)
13.06.2015 Brann Open Air
Leipzig-HalleFlughafen (GER)
09.-11. 07.2015 Rock Harz Open Air
Ballenstedt (GER)
28./29.09.2015Neuborn Open Air
Wörnstadt (GER)
Dieser Beitrag wurde bereits 1 mal editiert, zuletzt von Hexo () aus folgendem Grund: Formedit and put the english and german news togehter