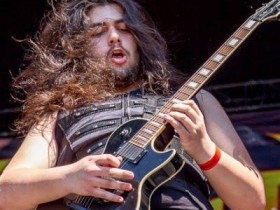 English
MAJESTY
just announced the name of the new lead guitar player.
Emanuel Knorr
, who already played with the band on several summer festivals, is now a permanent band member.
Here is a first statement of
Emanuel:

"True Fucking Heavy Metal – that´s what I love and what MAJESTY is all about ever since. I am happy to be a part of the band now and to contribute my part to spread and live the metal word all over the world!"
Don´t miss
MAJESTY
on the following summer festivals:
09th of July- Rock Harz Open Air (GER)
15th of August – Summer Breeze Open Air (GER)
29th of August – Neuborn Open Air (GER)
majesty-metal.de
|
noiseart.cc
#############################
German
MAJESTY
gab soeben den Namen des neuen Lead Gitarristen bekannt.
Emanuel Knorr,
der bereits auf mehreren Sommer Festivals mit der Band gespielt hat, ist von nun an ein festes Mitglied der Band.
Hier ein erstes Statement von Emanuel:
"True Fucking Heavy Metal - das ist es, was ich liebe und was Majesty seit jeher mit Feuer und Flamme machen. Ich bin froh, dass ich nun ein Teil der Band bin und meinen Teil dazu beitrage, den Metal in die Welt zu tragen und zu leben!"
Verpasst nicht
MAJESTY
auf den folgenden Sommer Festivals:
09. Juli - Rock Harz Open Air (D)
15. August – Summer Breeze Open Air (D)
29. August – Neuborn Open Air (D)
majesty-metal.de
|
noiseart.cc
Follow the Majesty-Alliance on
Twitter
,
Google +
and on
Facebook
LastFM Profil:
Hier entlang